https://www.martinsville.com/documents/Small%20Business%20Grants%20Requirements%202022.pdfProviding Private Funds and Support for Economic Development in Martinsville-Henry County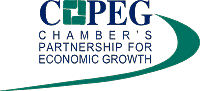 Martinsville-Henry County Chamber's Partnership for Economic Growth (C-PEG) is an independent, yet closely aligned, charitable affiliate of the Chamber of Commerce. Led by a separate Board of Directors, C-PEG is charged with funding and supporting the area's efforts to improve economic growth.
Business and community leaders face many economic challenges. We can all get involved--both at work and at home--to ensure that the community has the resources needed to recruit new businesses and industries and help existing companies with retention and expansion.

The Chamber encourages its members to join this alliance to invest additional dollars in economic development as a tax-deductible contribution.

C-PEG grants are now avaible for 2022. For information about C-PEG grants, click here.
C-PEG Awards

Grant Winner
Armstrong Law Firm

Grant Winner
Armstrong Law Firm

Grant Winner
GS Industries
C-PEG Board of Directors
The Showroom
Director
| | | |
| --- | --- | --- |
| Clay Campbell | Martinsville Speedway | Director |
| John Parkinson | Drake Extrusion | Secretary/ Treasurer |
| Amanda Cox | Appalachian Power | President |
| Steve Draper | Martinsville City Sheriff | Director |
| Timothy Martin | Fred Martin & Associates | Director |
| Charles Whitfield | Charis Transportation | Director |
| Chris Lawless | Lawless Welding and Fabrication, Inc. | Director |
| April Haynes | Community Foundation Serving Western Virginia | Director |
| Leon Towarnicki | City of Martinsville | Director |
| Jason Davis | Blue Ridge Regional Airport | Director |
| Cindy Summit | S & K Office Products | Director |
| Mike Grogan | Southeastern Wood Products | Immediate Past President |
| Dr. Greg Hodges | Patrick & Henry Community College | Director |
| Mary Nester | American National Bank | Director |