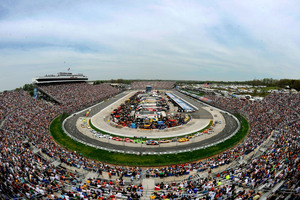 When Martinsville Speedway first opened, NASCAR was just an idea. When NASCAR was formed, Martinsville Speedway was a charter member, a membership that endures after more than 60 years.

In fact, the historic Virginia half-mile oval is the only track that was on the schedule in the first NASCAR Sprint Cup Series season that still hosts the series today.

Without a great deal of capital, but a passion for stock car racing, H. Clay Earles carved Martinsville Speedway out of the Henry County clay in 1947. He opened for business on July 4 of that year with just 750 seats but a crowd of over 6,000 fans.

A year later NASCAR was formed and in 1949 Martinsville hosted the sixth race in the series that eventually became the NASCAR Sprint Cup Series.

At just over a half-mile in length, Martinsville Speedway is the shortest track on the NASCAR Sprint Cup Series, but it's one of the biggest when it comes to action.

The track has two 800-foot straightaways hooked together by short, tight and almost flat turns with just 11 degrees of banking. The demanding layout consistently produces some of the wildest racing each season.

The facility has grown enormously since Red Byron won the inaugural event, but other than being paved in 1955, the track configuration remains the same. But just about everything else has changed.

Today over 60,000 seats reach skyward from the edge of the racing surface, topped by VIP Suites and a state-of-the-art press box. Teams have one of the best garages in the sport in which to service their cars. There is a top-flight care center at one end of the infield and a modern media center in the middle of the infield.
A few years ago a pedestrian tunnel was added beneath the fourth turn. Outside of the fourth turn is a large, paved area for the sports' many displays and souvenir rigs.
The constant, consistent improvements at Martinsville Speedway are a part of Earles' original philosophy which is carried on today by his grandson, W. Clay Campbell, who has been the track's president since 1988.

"The secret to success in our business is giving the customer what he wants," Earles said before his death in 2000. "When a man plunks down his money, he deserves the best. You try to make him comfortable, give him a great show and make sure he gets his money's worth. And we've always tried to do just that.

"Your customers are your greatest assets and that will never change. You actually sell the customer a memory as much as a race. If their memories are good, they'll keep coming back."

Martinsville Speedway was purchased by International Speedway Corporation in 2004, but Earles' philosophy continues.

"Martinsville Speedway is constantly growing and we expect to continue that trend for many years to come," said Campbell, who remained as the track's president after the facility was purchased by International Speedway Corporation in 2004. "We review our facility and the operation of it after each race and look for ways to improve. Martinsville Speedway has been a showplace for NASCAR Sprint Cup racing for more than half a century and we plan to continue that for generations of race fans in the future.

"My grandfather often said that Martinsville Speedway is a work in progress, that it would never be finished. We all still believe that…we will always be working to make it better for the fans."
Visit www.martinsvillespeedway.com to learn more.